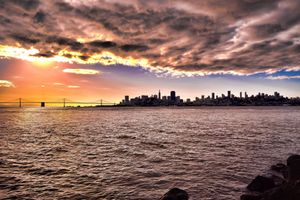 Robin provides professional sound and lighting for weddings, private parties, and corporate events for Apple, Adobe, Microsoft, Salesforce, and more. As a DJ, he spins a soulful blend of feel good music catered to any crowd.  As a production manager, he comes equipped with all the gear and experience you need for large-scale events, or intimate gatherings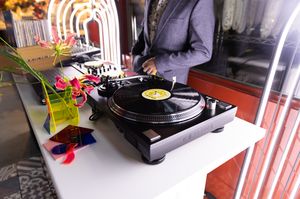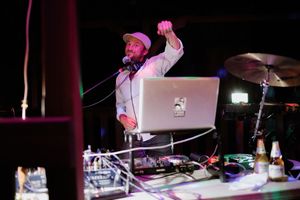 Our wedding's dance floor was NOT ONCE EMPTY. It was ALWAYS at maximum capacity! That's all thanks for Robin's awesome DJ skills! He is also an amazing person with a wonderful personality. Having him emcee and make comments during the reception was wonderful. He really energized our wedding! I would STRONGLY recommend him to anyone looking for a DJ. I recommend him so much that I'm actually writing this review on my honeymoon! Can't emphasize enough - pick Robin as your DJ, you won't be disappointed!
WOW! My husband and I are still in awe with everything Robin did to make our wedding so perfect! He made a point to meet with us a few times throughout the planning process to really get to know Matt and I. Robin took care of SO MUCH for our wedding. He played acoustic for our ceremony, recorded the entire ceremony, vows, and speeches, played a live set for cocktail hour, then finished off the night being our DJ/MC. He saved us so much time, energy, and money doing ALL of this for us. The moment I met him I knew I could leave all of the music in his hands. He went above and beyond! Our guests are still talking about the music at our wedding and I believe a guest who is getting married next year is trying to book Robin. Which makes us very excited because we can finally get to enjoy him as a guest on the other side. Matt and I can not thank Robin enough for everything he did for us. He will forever be apart of the best day of our lives and he had a HUGE part of making the day so perfect. Robin is the guy to do this job! You will not regret it! Please message me if you have any other questions regarding everything he did for us!
If you want to be so happy with your wedding DJ that you hug him 4-5 times at the end of the night, look no further than Robin Applewood. During the exploration process, when evaluating DJs, Robin was responsive, professional, straightforward, and collaborative. We signed up for many of his services - worth every penny. I had a vision for the day: guitar and sax during the ceremony, flowy jazz set during the cocktail hour, the Hora, DJ set with live sax and percussionist during the dance party, flowing into a silent disco. Robin was able to make it all happen pretty flawlessly with a high degree of confidence. During the planning process, Robin was flexible and made the extra effort to get to know us and better understand our vision for the event - templates to collect songs and recommendations for how to help him deliver. He came to meet us face to face in San Francisco and just get to know us. On the wedding day, Robin exceeded expectations. Not only did he and his musicians flawlessly execute everything we asked, they visibly had a ton of fun guiding our guests through an evening of dancing and good vibes. At the end of the night, Robin and his team delivered a world-class silent disco experience. My friends keep sending me texts thanking me for that experience. If I had three thumbs I would hold them up for Robin. Stop second-guessing yourself and just hire him, now!
Robin is an extraordinary DJ! We booked him for two nights (one for our ceremony & dinner, the next for a big party). He absolutely hit the vibe and the style that we were going for on each night. He offered us add-ons for a live drummer & live saxophonist, and it was absolute perfection. I must have told each one of them how much I love them at least 10 times, because honestly--what's a party without the music?
Robin is the man! We are so happy we hired Robin to perform at and then DJ our wedding, it was awesome. From the acoustic work he did for the ceremony, to the live set he performed with an incredible group he put together, to the dj-ing for dancing - Robin really delivered for us. He took the time to understand what kind of musical vibe we wanted and delivered exactly what we were looking for. So much talent and a great attitude, fun and super easy to work with. We really could not recommend Robin enough.
Really awesome DJ and talented musician who provides a great mix of tunes, good vibe and an infectious smile. Robin has honored us with his talents at both a huge 2500 plus event as well as a smaller in store event and has always been very adaptable and professional. So easy to work with!
Robin organized the music and DJ'd for my wedding in Idaho in September - he was absolutely phenomenal. My husband and I had a very specific idea of what we wanted for the music (live musicians paired with a dj) but had no idea where to begin. Robin sourced an incredibly talented sax player and percussionist and curated the most fun night of music we could have asked for. The music was perfectly spot-on for the style and vibe we were looking for. We had a very multi-generational crowd and quite literally every single person was on the dance floor all night. Robin was also great a great MC and skillfully navigated the crowd through the various first dances. Our friends continuously tell us it was the best wedding dance party they've ever been to (and our friends know how to get down), we have had multiple requests for a recording of set, and Robin and the band have now been recommended through our wedding planner and booked by other couples. My husband and I would shamelessly crash another wedding to see Robin DJ again.